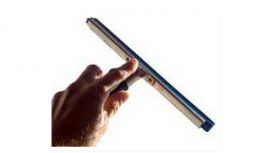 I use both traditional methods of window cleaning i.e. cleaning solutions, squeegee, polishing cloth etc. as well as the more modern "Pure Water" method of cleaning windows. I will use either depending on what is the most suitable method in each situation.
I clean windows all year round, so you will have a reliable service 12 months a year. Not just during the summer months like some other window cleaners do. There are a lot of 'fair weather' window cleaners, who come out in the better weather and only stick around until the weather turns cooler. I clean all year round, even in the sub zero temperatures of deep winter. The purified hot water that I use keeps cleaning effectively summer and winter, and as for me… I just dress suitably for the different seasons.
What is 'Complete Window' cleaning, and what makes me different from all the other window cleaners? Well, when cleaning windows, you expect a window cleaner to clean the glass in the window. Yes, of course I do this but unlike many others, I clean the 'complete window' – cleaning the exterior window frame as well as the actual window glass. When a glass window is dirty on the outside, it is normally from the dirty air and rain etc, the frame around the glass gets the same dirt landing on it too! So, I clean the frame as well as the glass on exterior windows – that is 'complete window' cleaning.
---
Reviews and Ratings
We do not have any reviews about Warrenpoint Window Cleaning available right now.