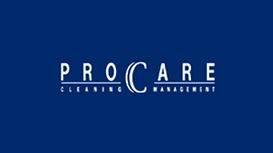 We have been successfully providing a full range of professional cleaning services to many commercial sectors for over 30 years. And during that time have established an excellent reputation for great service. We specialise in cleaning the small to medium sized premises, from around 500 - 20000 square feet, and are happy to provide that service on any level of frequency from 1 to 7 days per week. 1. Our highly effective 'Performance Bond', which ensures our customers always receive the service, they require.
2. Our select teams of cleaning contractors around the country, which enables us to provide a 'National Service' with a unique 'Local' touch. 4. We are conversant with CQC requirements and will ensure that your establishment will be able to comply with the CQC's ongoing monitoring system. Contact Procare today for your free no obligation professional cleaning quotation, and discover the ProCare difference for yourself.
---
Reviews and Ratings
We have used Procare for over 10 years now and during that time have had two cleaners, both of whom have been excellent. Our current cleaner, Eddie, is conscientious, punctual, extremely hard working and never lets us down. Procare regularly check to make sure we happy with the service and their administration is always friendly and helpful.
Thanks for such a professional service & excellent quote. We'd like to arrange cleaning to start ASAP.