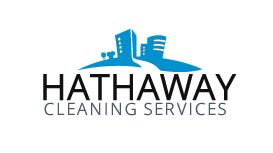 Hathaway Cleaning Services is a privately owned family business providing a range of cleaning services for office, commercial and retail premises as well as specialist services to the residential sector. We try to restrict our service delivery to the areas in and around Stratford-upon- Avon and Alcester to enable us to maintain a very personal service and be at hand to respond to any requests or concerns promptly and fully.
Over the years we have built up a dedicated team of employees with whom we maintain regular and close contact. Our pay rates are above the average for the industry which goes a long way to ensuring we have a low staff turnover in an industry with typically high staff turnover rates. We invest in training and protect our employees well being through the application of a rigorous health and safety policy.
We encourage and support employee awareness of environmental issues. We review targets for paper and general waste both within the company and with clients to encourage and promote recycling wherever possible. We ensure that all aerosols are replaced by pump action dispensers where possible and we take every opportunity to use phosphate free and biodegradable products. We also use mop heads and clothes that can be washed and re-used to again reduce the impact our work has on the environment.
---
Reviews and Ratings
We do not have any reviews about Hathaway Cleaning Services available right now.